Custom Blinkers
The Finish Line Custom Horse Blinkers are our "Regular" or "Fancy" horse blinker with your LOGO or INITIALS added to personalize them. Simply tell us the Initials you want on the order form found on the main page or fax us your logo.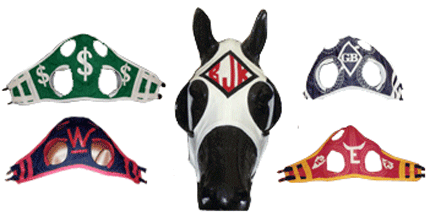 These horse blinkers are are made of machine washable double-knit or mesh material. The Double-Knit material allows the fabric to stretch and conform to most sizes of horse heads in their group. To customize, add your logo or initials.
Please specify blinker sizes and your choice of closings - Velcro or Hook & Ring.
Small - Arabian or Yearling
Medium - Quarter Horse & Thoroughbred
Large - Standardbred
X-Large - For a big headed horse! (additional charge)
The Blinkers are supplied with your choice of Cups in many colors:
Full/Half -- additional charge.
Quarter/French -- additional charge.
Semi Full 3/4 -- additional charge.
Blind -- covers the eye completely -- additional charge.
Plexiglas -- available in Clear, Amber or Green -- additional charge.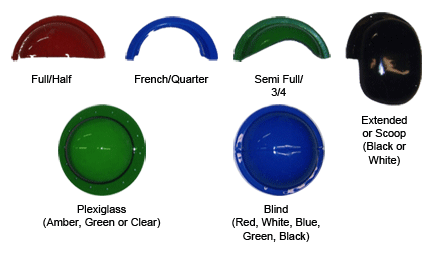 Please note: All custom orders are non-refundable.