Bridles and Halters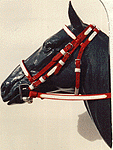 The Finish Line "Supreme" racing bridle is a beautiful race set designed in colors to match our award wining blinkers and saddle pads. Complete with headstall, noseband, curb strap and reins. Headstall and noseband are made of 3/4" nylon with 5/8" nylon overlay in colors of your choice. Reins are 1" thick with 18" rubber grips.
The Finish Line has a full line of Halter, Nose Band, Martingale and Girt covers. The fleece covers are available in a large assortment of colors. Nose Band covers are available in a Small (no foam) Medium (with foam) and Large (with foam) size. Click here for more information.
Click an image to enlarge.

BRIDLES AND BRIDLE SETS

Call for current pricing information.

HALTERS

MARTINGALE

CAVESON AND HEADSTALL

Fleece Covers

The product is made of "Fleece" material. Velcro (when required) is used to secure the covers in place. If you want to rid your horse of "Girt Itch," buy a few and wash them often.
Please note: All custom orders are non-refundable.
Bridles, Halters and Fleece Covers